Worship at Parkview is an intentional, authentic, passionate encounter with the Creator of the universe. After all, worship is ministry to God. He is our audience. At Parkview, worship is participatory, contemporary and it is for people who are drawn to God's presence and are hungry for more of Him. For our weekend worship services, we worship for a continuous block of time. Our worship involves many kinds of artistic expression from multi-media experience, drama, and familiar songs to modern guitar driven music.
We'd like to help you grow into a deeper, more meaningful relationship with God. In fact, Exodus 34:14 says, "He is a God who is passionate about His relationship with you." Our ministry exists to build bridges between people and God. His presence is available to all.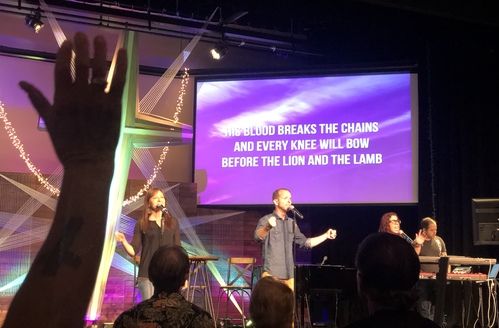 Worship Ministry Team Leads
Worship Pastor
Parkview Church
Worship Director
LPGA Campus
Worship Assistant
Palm Coast Campus
Technical Director
Parkview Church
The Celebration Choir rehearses on Tuesdays from 6:45pm-7:30pm. Celebration Choir members attend three monthly rehearsals on the second, third, and fourth Tuesdays of the month (unless noted differently on schedule) and lead in worship the fourth weekend of the month at our Saturday night and Sunday morning services. Team members must maintain a positive, worshipping presence while singing, listen to provided music regularly, and faithfully attend all rehearsals. While at rehearsals, choir members are to be team players, respectful, and to maintain a strong Christian witness in the community. No experience is required, but you must be a high school student or older.
Our band represents some of Flagler County's most talented musicians and is comprised of seasoned players that have a heart to lead others in worship and display the incredible talent God has gifted to them. Our band quality is a tremendous drawing card for those visiting our church from the area. Audition required
Our vocal team consists of seasoned vocalists that have a passion for leading others in worship. They view themselves first as worship leaders, then vocalists. Audition required as well as faithful commitment to Celebration Choir.
With the rise of technology in every facet of our lives, Parkview is committed to being technologically current in sound production, lighting and media services. Each of our three worship services has its own set of sound, lighting, and media technicians. Through the skill and expertise of these individuals, Parkview is creating unique worship environments each week that are designed to help you connect with God.
SET BUILDING / STAGE DESIGN
At the onset of each sermon series, our stage is transformed to reflect an appropriate style. Carpenters, painters and "crafty" people help to make our stage look current and relevant.
Most people are visual learners. That's why, at Parkview, we use a lot of visual elements in our services. Our visual arts team is made up of artists, photographers, graphic designers, and people that have the ability to create strong visual elements for our worship services.